Columbia Crisis -- Digitization Policy and Image Samples
The Crisis at Columbia Online Exhibit and Digital Archive will feature a wide spectrum of digitized images from the Columbia University Archives' Student Activism and Protest Collection. Since this project is operating in close coordination with a physical exhibit created by the Columbia Archives staff for its 1968 commemoration events, all scanning and editing will occur within their premises on the 6th floor of Butler Library on Columbia University's main campus.
As stated within the Project Management plan, digitization efforts will strictly cover items dealing with the eight-day strike that occurred from April 23-30, 1968. All digitized items will be organized within three categories: photographs, written/typed documents, and memorabilia. This particular collection houses a substantial amount of photographs that deal specifically with these eight days. So many of these photographs speak volumes to the emotion and spirit of the event, which will prove a difficult task for the project staff to discriminate amongst them. Due to the large number of relevant and compelling photographs available, roughly 40% of the total digitization will occur within this specific category. Photographs will be scanned, using a standard flat-bed scanner, at a high resolution of 600 dpi. Once scanned, they will be saved in two formats: both in an archival quality format (TIFF) and in a more web-accessible format (JPEG). The images that will be presented on the project's web site will be those saved in the JPEG format, to provide an efficient experience for site users. The University Archives will keep the images saved to the TIFF format for their own preservation purposes. The project staff will also take care to edit all of the scanned photographs, in an effort to ensure a close resemblance to the original image. All editing tasks will require the use of Adobe Photoshop software.
Three samples of photographs that have been digitized for this project are included below.
Occupying students on the ledge of Low Library, outside the Presidential suite, attempting to catch food supplies from supporters outside the building. (Sunday afternoon, April 28th)
(source: Office of Public Affairs Activism & Protest Photograph Collection, Columbia University Archives, 1968)
---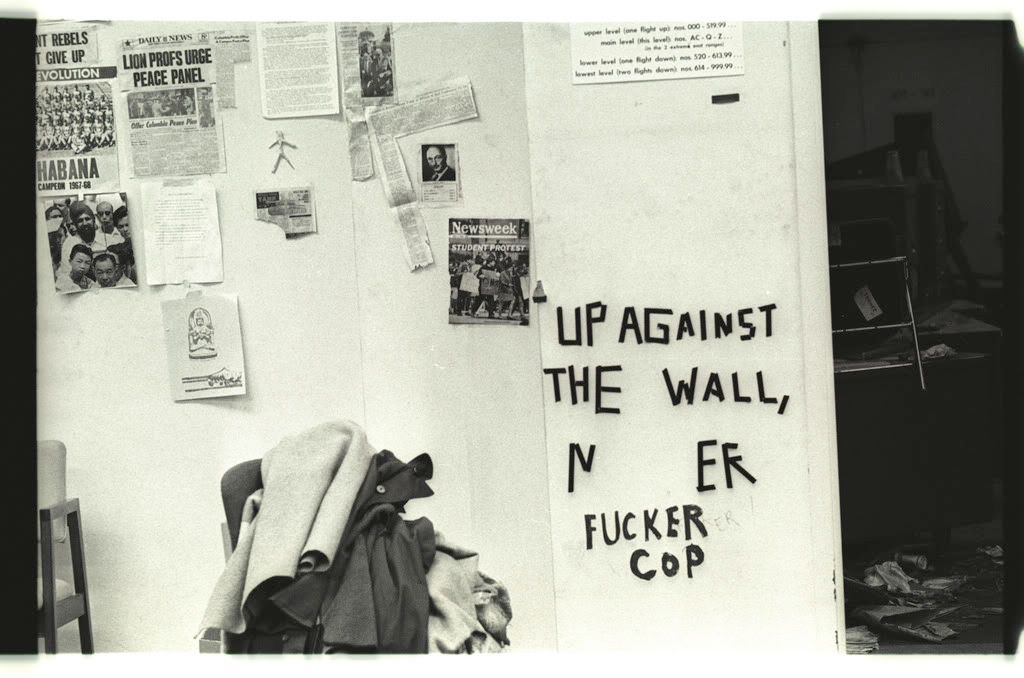 Wall of clippings, illustrations, and graffiti created by students occupying Mathematics Hall - one of the more radical occupied buildings (source: Office of Public Affairs Activism & Protest Photograph Collection, Columbia University Archives, 1968)
---
Crowds along the south west corner of Low Library during the occupation (Sunday afternoon, April 28th). Faculty members, wearing white armbands, are lined up closest to the building. (source: Office of Public Affairs Activism & Protest Photograph Collection, Columbia University Archives, 1968)
---
In addition to photographs, this digitization process will also include a significant number of written and typed documents. Amongst the total amount of digitized items, this category will comprise about 40%. As with the photographs, it will be daunting for the staff to make selections amongst the abundance of documents in their possession. They will do so with specific criteria in mind. The documents included within this digital project will be those that most effectively communicate the motives behind the protest, the types of activities that took place within the occupied buildings, and the overall mindset of the students throughout the entire process. Documents will also be scanned using a standard, flat-bed scanner, and under a high resolution of 600 dpi. They will additionally be saved in both TIFF and JPEG formats, with the site solely facilitating those saved in JPEG format. Since a considerable portion of the documents is handwritten, transcriptions will be completed for all, to be accessed within the Digital Archive. The project's two student interns will complete the majority of transcription work, though the Project Manager will proofread their work to ensure quality control.
The following are two samples of documents that have been digitized for inclusion within both the online exhibit and digital archive.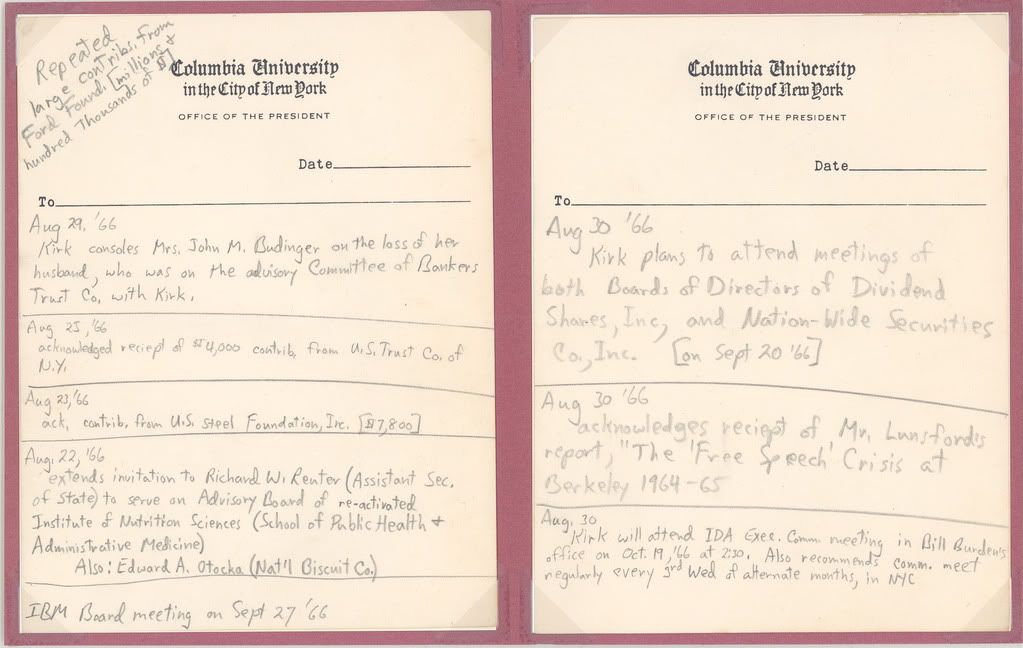 Notes on Office of President Memo Paper, taken by occupying students who rifled through President Kirk's files looking for incriminating evidence against him. The 1966 dates on these pieces of papers refer to the documents found in the files that were of interest to the students. (source: University Activism & Protest Collection, Box 10, f. 1, Columbia University Archives, 1968)
---
A succinct listing of the six demands made by striking students who had occupied Hamilton Hall on the first day of the protests (April 23rd). (source: University Protest & Activism Collection, Box 11, f.41, Columbia University Archives, 1968)
---
The third category of digitized images consists of a rather mixed assortment of items, including: flyers, pamphlets, student publications, illustrations, posters, and maps. The items included within this group are, to be frank, those that are valuable, but do not involve a large enough amount to be awarded a separate category. This category reflects the incredible variety of objects that comprise the Columbia Archives' Activism and Protest Collection. The diversity of items will hopefully work to truly engage users and allow them to understand the multitude of methods through which students expressed themselves, and also through which the event was documented. The items scanned and edited from this category will make up an estimated 20% of the total digitized items.
Below is one example of a digitized item from this category.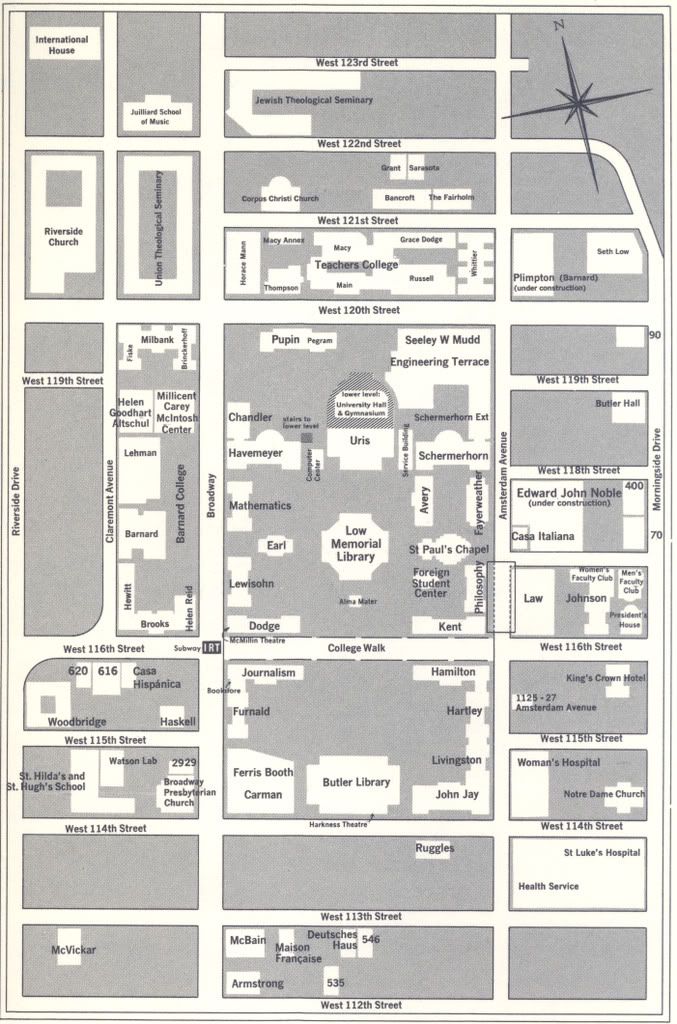 A map depicting the layout of Columbia's main campus at the time of the protests. Is helpful for viewing the geography of specific buildings discussed in exhibit. (source: 1967-68 Columbia University Officer and Staff Directory, Columbia University Archives)
---
page revision: 22, last edited: 26 Feb 2009 05:32